Mitoworld x NFT.MY 'Create Your Own Art Gallery in the Metaverse' Workshop

On 1st April 2023, a workshop organised by Mitoworld.io & NFT Malaysia at Mereka.io's space in Publika KL. The workshop focused on onboarding participants into Mitoworld's Metaverse, what it is, how to navigate the virtual space, available tools, and types of digital assets one can upload and display in their virtual spaces of choice.


Mitoworld x NFT.MY 'Create Your Own Art Gallery in the Metaverse' workshop reel

Expanding your brand's virtual presence through Mitoworld.io's fine-tuned digital gallery setups


The workshop was attended by a diverse group of participants, including artists, educators, entrepreneurs, and a rep from an NGO. The speaker at the workshop included experts in the field of Metaverse, who shared their insights on the potential of Metaverse and how it can be used in various industries.
The participants were also given the opportunity to create their own Metaverse using the Mitoworld platform. This was done through a hands-on workshop, where the participants were guided through the process of creating their own world. From choosing your map, customizing your own avatar with Ready Player Me, to uploading and arranging digital content like NFTs onto the Mitoworld.io platform. With the increasing adoption of NFTs, it's important for creatives to understand how they can leverage this technology to create new revenue streams and engage with customers in unique ways.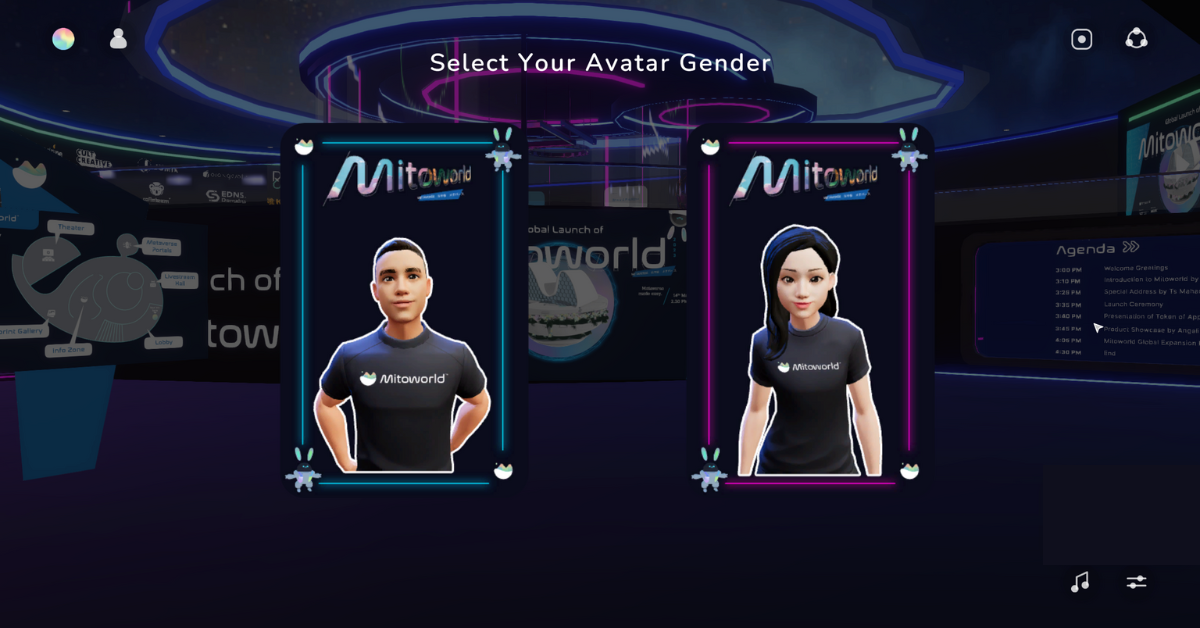 Users may choose the default male/female avatar



Or create their own avatars via Ready Player Me
The workshop was a great opportunity for Mitoworld to showcase its platform and demonstrate its potential in the world of NFTs. By allowing participants to exhibit their own NFTs, Mitoworld succeeded in providing a tangible experience on its platform and showcase its user-friendly interface that is a pleasure to navigate through, even for first-timers.
Huge gratitude to our partners this time around, Mereka.io for sponsoring the venue & Mitoworld.io for the free course as well as the generous lucky-draw giveaway prize.
The Future of Mitoworld.io
With the grand launch of Mitoworld.io, created by Virtualtech Frontier Sdn Bhd (VTF), aims to empower businesses of all sizes and industries to create their own metaverses without the need for complex coding or significant financial investment. By providing a no-code solution that simplifies the process of creating a metaverse, Mitoworld.io positions itself to be the next big thing in the world of virtual spaces.
The potential of Mitoworld.io is immense, and the platform has already garnered interest from businesses across South East Asia. With the support of investors, partners, and governmental agencies like MDEC and MOSTI, Mitoworld.io is primed to be the next unicorn in Malaysia and a leading player in the global metaverse market.



Mitoworld's expansive lists of sponsors & partners
As the world becomes increasingly digital, the demand for virtual spaces and immersive experiences is only going to grow. Mitoworld.io is well-positioned to meet this demand and provide a platform for businesses to connect with audiences online through highly engaging and accessible metaverse-building tools.
So, the grand launch of Mitoworld.io marks a significant milestone for VTF and the world of virtual spaces. With its user-friendly interface and no-code solution, the platform is poised to revolutionize the way businesses create and engage with their customers in the digital realm. We look forward to seeing what the future holds for Mitoworld.io and the exciting developments that will emerge from this innovative platform. We at NFT Malaysia are eager to be invited to continue assisting them in future endeavours.